Tips & explainers
Simplified for ease
We have purposely over-simplified this to make it a bit more usable. The tools we use ourselves when we are producing solar quotes are much more complicated and take many more factors into account.
That said this tool covers all the major factors, and certainly should give you a good indication of things like the effect of roof slope, panel orientation, which county you are in and alike on potential solar electricity generation & savings on your electricity bill.
Spacing around solar panels
Solar panels (generally) are not allowed to go right up to the edge of your roof. There must be a space left around the panel array.
Horizontal space required
There must be a 50cm space between the edge of your panels and any open edge of a roof. If though, your house is semi-detached or on a terrace, then you do not need to leave this space on the adjoining side. You can go right up to the dividing wall of any adjoining property.
Vertical space required
There must be a space of 20cm between the top of the panels and the ridgeline. Below the panels must be a space of 50cm before the edge of the roof.
Roof angles
A typical roof slope here in Ireland is 25° to 30°
Easy way to measure roof angle
A very easy trick to measure roof angle is to use your phone. On an iPhone or Android phone, you can just open Google, type "spirit level", then put the edge of your phone against the inside of your roof, and it will show you the angle.
Quick way to check roof angle: Google search "spirit level", then hold your phone against the beam. Works on android &amp iPhone, no app required.

Measuring roof size
Your roof footprint
Our solar calculator gives you the horizontal distances required instead - the footprint of your roof. We've done the trigonometry for you.
The footprint is much easier for you to measure then measuring the distance down the slope of your roof. Just measure the distance horizontally a ground level, from below your ridgeline to below the guttering. Check that measurement in the calculator, and you'll have a good idea how many panels will fit on your roof.
Using Google Maps
Another easy way to measure the footprint of your roof is on Google Maps.
Using the satellite view (located at the bottom-left of Google Maps).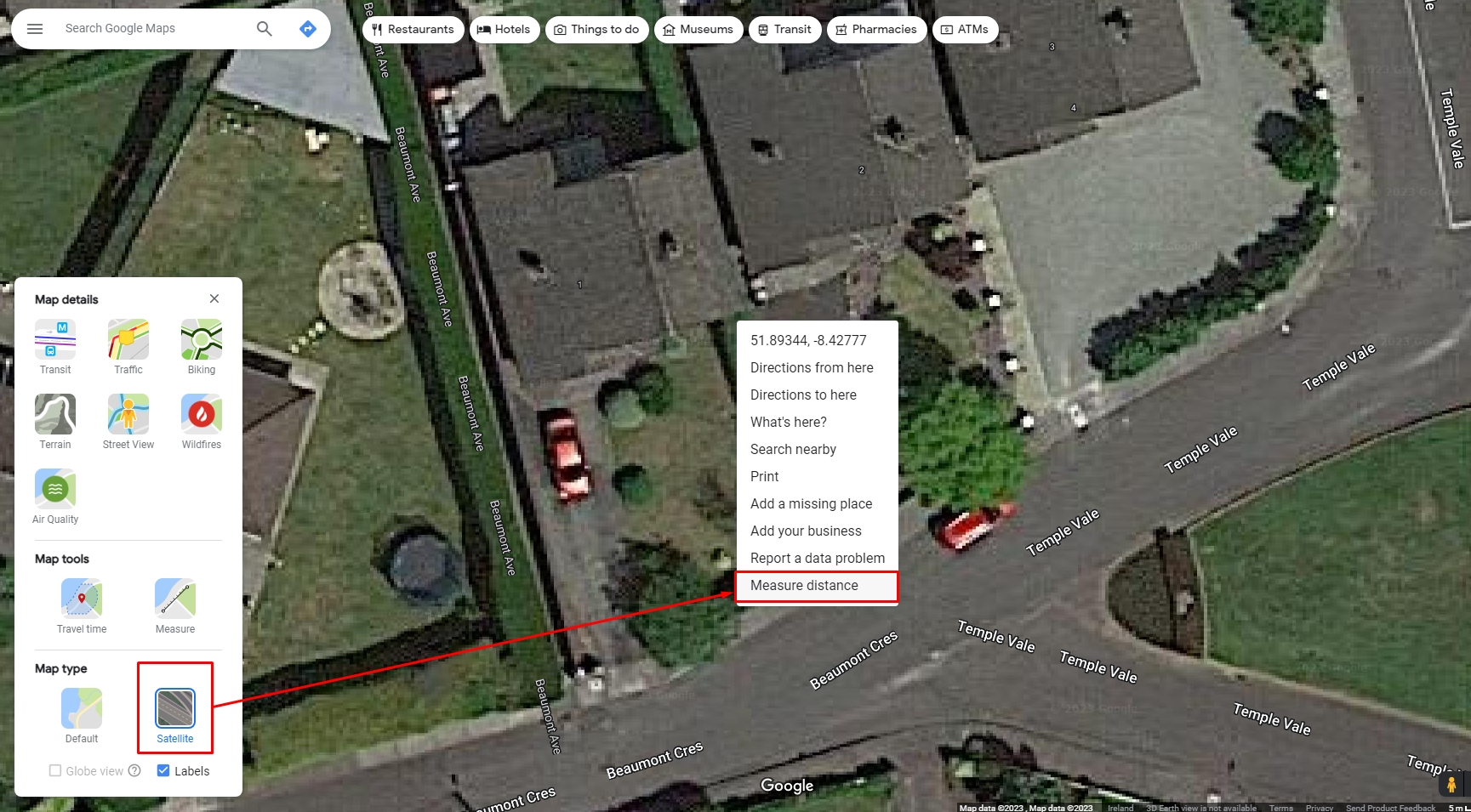 Right-click on one end of your roof, then click on "measure distance", and click on the other end, and it will tell you the distance between the two points.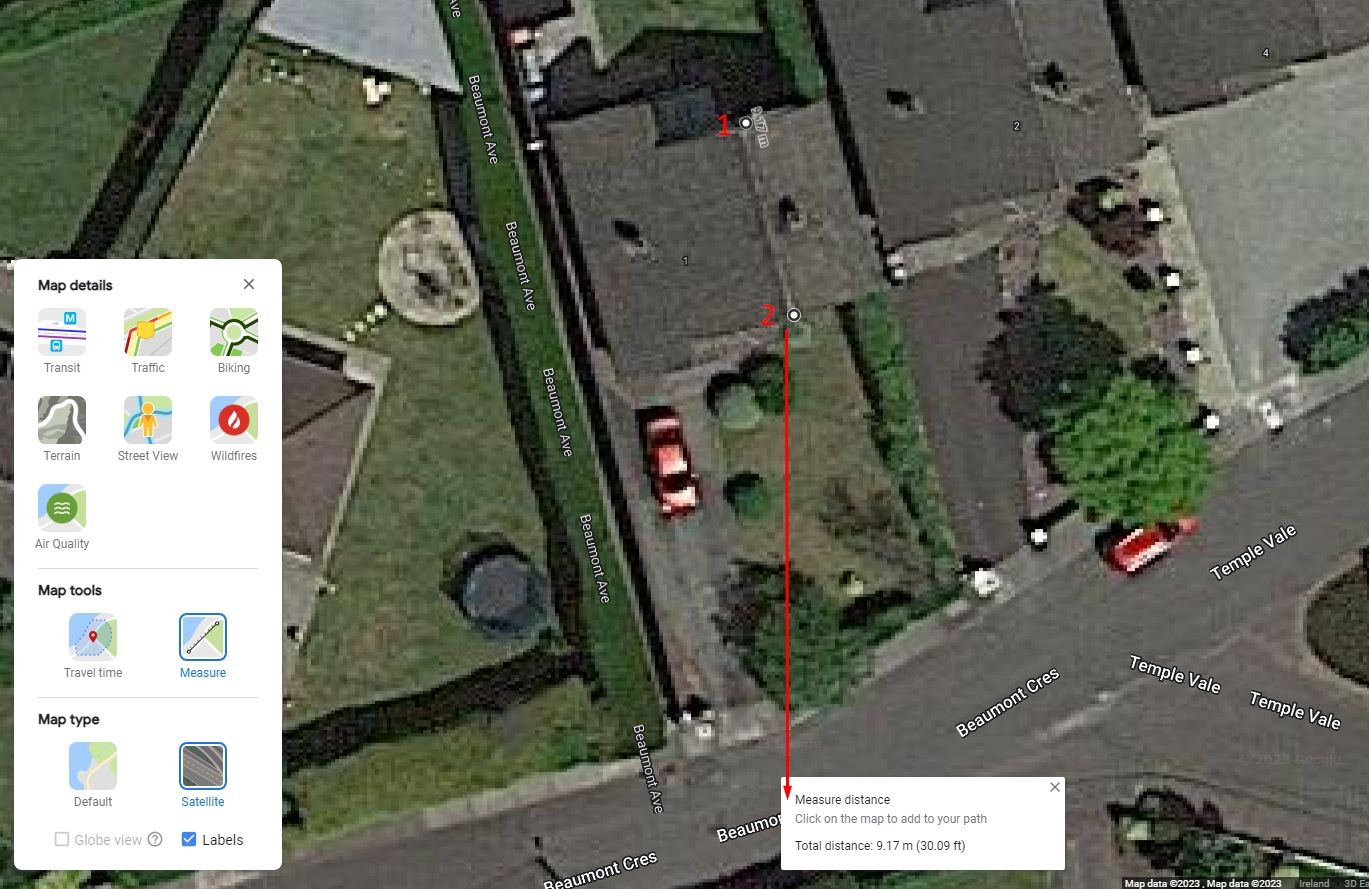 In this case, the distance between point 1 and point 2 measures 9.17 meters, or 30.09 feet. In our experience, it's pretty accurate, usually to within 10 or 20cm.
Panel power in Wp
Panels are generally quoted by their Watt peak value. When someone talks about their "435 panels", that means typically those panels are 435 Watts peak.
Peak?
A 435 Wp panel would put out 435 W of power in perfect conditions. That's what the "peak" bit means, this is the maximum that panel would produce. Don't worry, our calculations know it's not always ideal conditions and take that into account in their predictions.
435Wp is our typical power of panels at the moment, but feel free to play with that number should you be looking at other panel sizes.